DESCENT INTO THE DEPTHS
OF THE EARTH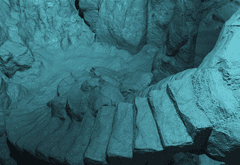 Suternia is filled with, and connected by many natural and artificial passages. Natural ones include such things as lava tubes and underground rivers. Over millennia, the Maedar, and other denizens of the deep, have carved and constructed tunnels, halls, aqueducts, and many other structures, including, of course, staircases.
MAEDAR CONSTRUCTION
IN THE DEEP PLACES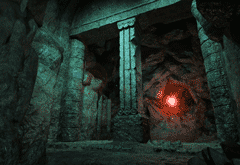 Throughout all Suternia, one will find many artificial structures. Most were made by the Maedar. Great halls, temples and living spaces, some dating as far back as five thousand centuries, pepper the landscape. All are well-made and often superbly decorated. The few surface-dwellers who find their way down here are always impressed by Maedar craftsmanship and astounded to find the Maedar culture has such artisanship.
MAEDAR
WARHAMMER

⬆ An effective weapon made for bashing in heavy armour.
MAEDAR
BATTLEAXE

⬆ Another useful weapon very popular in Maedar society.
THE VIBRANT AND THRIVING
CULTURE OF THE MAEDAR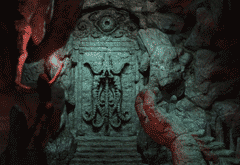 Maedar architecture and construction runs the gamut from austere to opulent. Their vibant culture and superb craftsmanship has created and influenced art and architecture throughout Suternia, and even up to the surface world.
MAEDAR ART
AND CRAFTSMANSHIP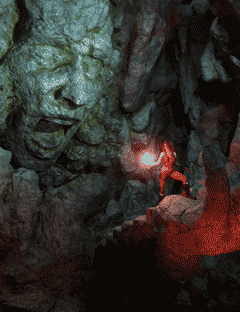 The overwhelming influence of Maedar art and culture is ubiquitous throughout all Suternia. Their villages, called Rukkums, are rife with grand, well-decorated pillars and statuary..
THE DREADED
WORMS OF THE DEEP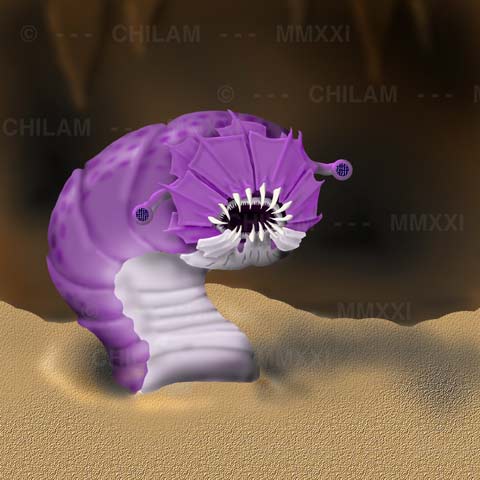 These enormous annelids, also called Violet Worms, are able to move quickly and silently through loose soil, loam, gravel, and scree with ease, popping up whenever they sense movement of prey. They often leave long but unstable passages in their wake.
THE SECONIDS
AND THE CARPONIDS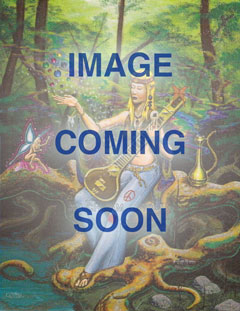 The Seconids (Pronounced SEE-con-Id) are an ancient, mysterious, sinister race that dwells in the deepest depths of Suternia. They are said to possess strange powerful arcane magical and mental abilities - and they harbour a taste for the brains of any intelligent beings that should dare to venture so deep.

The Carponids are a more primitive and violent, less intelligent, and equally voracious offshoot of the Seconids.

The Seconids & Carponids are mortal enemies of the Maedar.
MAEDAR
WAR MACE

⬆ An effective weapon in tight spaces such as Lava Tubes.
SECONID
STAFF

⬆ An ancient weapon of arcane power popular among the Seconids, et al.
THE SKRYLLAR:
SMOLLEKS OF THE DEEP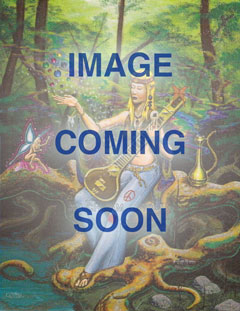 Small and weak, one-on-one, but strong in numbers, these vicious pack-hunters stalk the depths of Suternia looking for wanderers to eat and loot. Their innate abilities in the dark make them more dangerous than their surface-dwelling counterparts
THE DENIZENS OF SUTERNIA:
MALEVOLANT AND BENIGN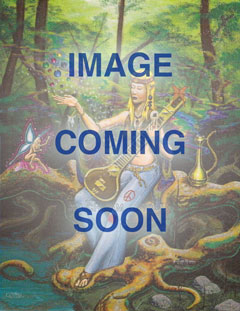 Many species of fish thrive in underground streams & lakes. Insects, rodents and small grazing animals, reptillian & mammalian, can be found wherever there are food sources.

Protodragons, the most primitive of six-legged reptiles, exist down here, their middle pair of legs not having evolved into wings.

Subterranean variants of surface races, such as Smolleks & Smeddegs, are extant in these depths.

Troglodytes, Lizardmen, and other more fearsome entities dwell further down.
FOOD AND PROVISIONS IN
THE DEPTHS OF SUTERNIA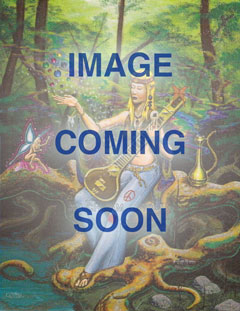 Water sources can be found in two ways: One, cold, soaking in from the surface world, being filtered through the rock and soil as it goes, and the other, welling up from the depths, heated in the 'Kettle on the Fire that Forged the World'

Food takes many forms: Fish dwelling in undergound rivers & lakes, reeds and strange fruit often growing along the riverbanks, edible mushrooms and fungi thriving in the fertile volcanic soils. Insects, rodents, reptiles, & other animals can be found in the deep places.

The Maedar & other dwellers in the depths will occasionally forage or hunt on the surface world, mostly at night.
SIGHT AND LIGHT
IN THIS DARK UNDERWORLD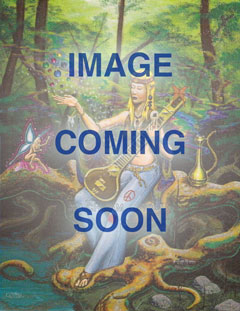 This underground world is devoid of sunlight, but it is far from shrouded in perpetual darkness, though some places are. A species of fungus called Lumocilia (Hair of Light) often grows on cavern ceilings. This mycorrhyza casts its roots upward, attaching symbiotically to roots of surface trees & plants. As the surface plants cool with the setting of the sun, the Lumocilia absorb that energy, and the visible part, resembling curly hair, emits a glow, often as bright as lamplight.

Rope-like, hemp-like plants abound down here. These can be used in many ways, or dried & burned for heat & light.

Volcanic gases & swamp gases can also be bottled and burned, but any burning must be done only where air is flowing, assuming that air does not contain these gases or toxic fumes.
OMMALOCK
MUSHROOMS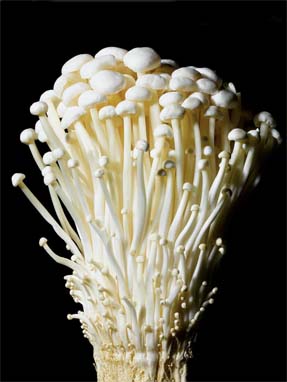 ⬆ This tall thin mushroom species grows in low-light caverns where Lumocilia does not grow.
IMPALORS:
FALLING DOOM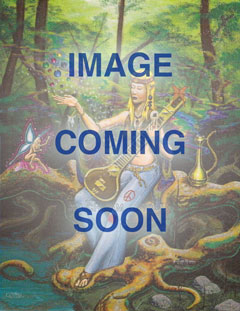 ⬆ Nautiloid-like creature clings to cavern ceilings, mimics stalactites, and waits for un-suspecting prey to walk underneath.
WOOD, ROPE, AND
OTHER USEFUL THINGS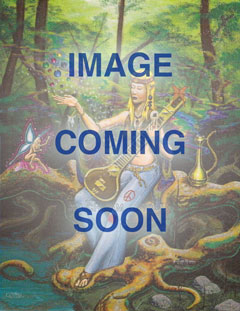 Bamboo-like plants and Hemp grow wherever the Maedar can build light wells to bring sunlight down from the surface using metal mirrors.

These plants are harvested and made into wood products, rope, scaffolding, ladders, building materials, and firewood.

Subterranean variants also grow periodically, but many things are acquired through trade with the surface-dwelling races, including humans, occasionally.

Other useful things are captured in combat with Troglodytes, Lizardmen, and the other denizens who get them by raiding and thieving on the surface world.
THE SENTINELS
OF ETERNITY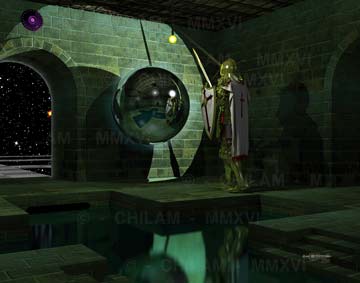 There are twelve ancient Sentinels of Eternity. These Sentinels are the everlasting entities which monitor the doorways of the Nexus Omniversum, the Gateway to All the Worlds. A few of them can be found in the remote corners of Suternia, in places called The Forbidden Zones. Here, Sir Flavius encounters and investigates one of the Sentinels.