A WARRIOR STRONG
AND COURAGEOUS !
Don BRANCO VASQUEZ of Aranxias and the Azure Isles:
Comrade-in-arms and lifelong loyal family friend to the heroic knight Flavius Franciscus.

He is renowned as one of the fastest and best swordsmen in all Varzuun. His skill with the sabrefoil is legendary and unmatched; Nearly totally ambidextrous, he wields one in each hand.

At the climax of the Battle of Zargossa, a young Branco earned fame and glory by defeating the warlord Lüther of Lødz in single combat to win the frost-sword Aquilón.
SKILLS:
Combat/Fighting :     100%
Stealth & Thievery :      0%
Magic (Arcana) :           0%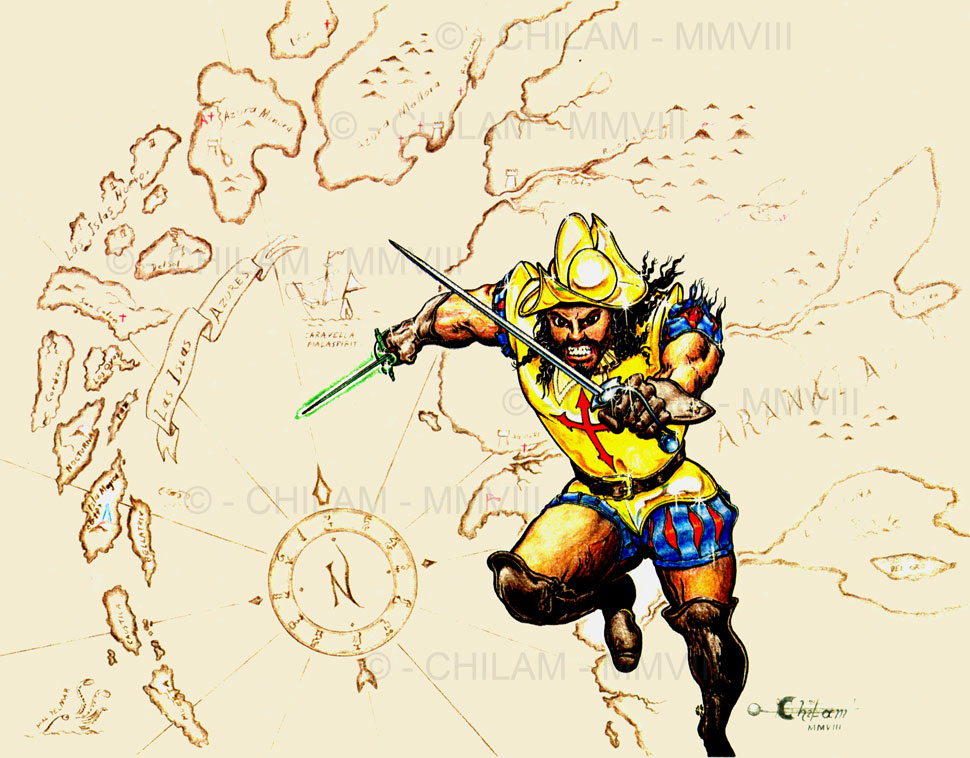 © MMVIII - Pen, Ink, Pencil Crayon on Paper
The map is Branco's homeland and includes churches, Lago del Cantos (Lake of Songs), Castillo Aguirre (Branco's birthplace), the ghost ship Albacore, The tower of the wizard Choderlos, the Cyclonis vortex and the sea monster Leviathanus.
Click on the pics outlined in
BLUE
to see the full images and fine details.
A CAVALIER, SKILLED,
FAST, AND FEARLESS.
A tremendous ally and a terrible foe, this powerful warrior has adventured far and wide, most often alongside his good friend and fellow swordsman, Flavius Franciscus.
BRANCO VASQUEZ:  This skilled swordsman from the Southlands is not only formidable in personal combat, but also a master tactician, having lead armies in some of Varzuun's fiercest battles.
The Pax Valorum: Branco will live and die by this ancient personal code of honour, considered by most to be the paragon of the Chivalric Ideal.
WEAPONS:
Sabrefoil  (Pair ! )       (Mastery)
Horseman's mace            (Prof)
Med. Lance           (Specialized)