Original Draft for Anvilus Nöire --- Pen & Ink, 2006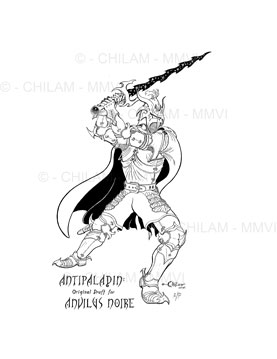 ⬆ This fearsome warrior was once thought to be nothing more than a folk-tale from Varzuun's past, but he has appeared once again to thwart the plans of Flavius and friends, and threaten the sanctity of Varzuun with his tyranny.

This is the very first drawing of this character, from 2006.
SKILLS:
Combat/Fighting:
Stealth/Thievery:
Magic (Necromantic):
Commanding Undead:






80%
0%
10%
10%

WEAPONS:
Dragon Sword
Dracodirk
Morningstar
Heavy Crossbow






(Mastery)
(Specialized)
(Proficient)
(Specialized)
Anvilus Nöire --- Pen & Ink, 2006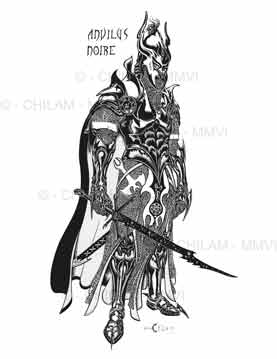 ⬆ No one knows who he is, or how he is able to shadow Flavius and friends wherever they go. He has had several opportunities to kill them, yet he does not. What, then, are his ulterior motives and hidden agenda?

Within a year of the first draft, the look of the Anvilus character had evolved to his current form.