FAITH AND FERVOUR
THE CHURCH MILITANT: DEFENDING THE FAITH
On Varzuun, there exist several orders of knights whose purpose is to defend Varzuun, her peoples, and the faithful against whatever attacks they may face, be it war, pestilence, the Abominations, or heresies. These well-trained people are capable and willing to defend to the death, if necessary.
THE POWER OF BELIEF: SACRED MAGIC
Over the millennia, many of the clerics, priests & lay followers of Ā-nak have been cited to have cast spells and performed miracles, drawing their power directly from their great deity Himself or from the hierarchy of celestial beings in His service. Contrast with Arcane magic.
MYSTICISM AND RITUAL: ARCANE MAGIC
Of late, a strange cult has arisen around a powerful but long-dead wizard, the Rubann Dharmuzz. "Saint" Dharmuzz, as his followers refer to him, was believed to draw the power behind his great magic directly from the world itself and the ancient secrets hidden within. His followers teach these secrets to their (necessarily) select few wizards and mages who show talent for the magic arts. Contrast with Sacred Magic.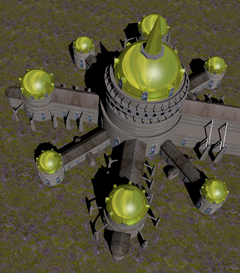 SACRED SPACES AND PLACES OF WORSHIP
Blender ™ with Digital Enhancement
From Druid's groves to magical temples to lofty cathedrals to the forbidden zones, Varzuun is peppered with places of preternatural power and spiritual significance; places held in reverence and awe by her many sentient beings.
DOCTRINE AND DOGMA
Ā-NAK AND THE "TRUE CHURCH":
Most followers of Ā-nak belong to one major well-organized world-wide church, sometimes called the Corpus Fidelis (The Body Faithful). This body is lead from the top down and the principles of the faith are universally taught (and enforced) throughout the land. The Maedar are also fervent followers of Ā-nak. They have a similar church structure in Suternia, though the Humans largely do not know it exists.
DRAGONS AND THE DRAKEN KNIGHTS:
Far and away, the most powerful clerical and military order of knights has to be the Drakens. Flying into combat on the backs of fire-breathing dragons gave these once-gallant warriors an insurmountable advantage over even the most terrifying of the Abominations, but when valour and lofty ideals give way to complacency, arrogance, and apathy, even the most virtuous of orders can fall from grace and become moribund. Can a new draken, born of prophecy, come along and revive their legendary glory?
MAGIC AND THE CULT OF "SAINT" DHARMUZZ:
The followers of this mystic wizard practice their arcane arts in secret, and often run afoul of many of the more militant knightly orders, who believe them to be a heretical (and dangerous) cult.