Portrait of FLAVIUS, PENITENT: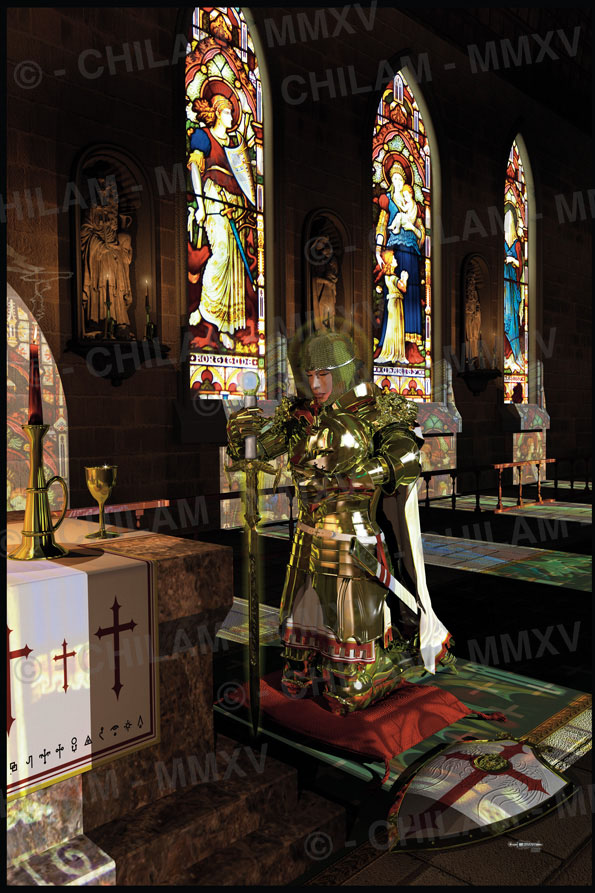 •
Note the detail in the stained glass windows, the statuary and the altar cloth. Also note the coloured light coming through the stained glass windows and reflected in the armour and the communion cup.
THE ILLUSTRATED WORLD OF




Digital (Blender™ and Photoshop™) - - - 2015


PRINTS: 24"x36"; Framed in antique gold;
NOTE: Though this is a digital print, it is a one-off.
No other prints of this work are available. Run = 1
$960
RACE:
HUMAN
GENDER:
MALE
HEIGHT:
18 Hands ( 6' 0" )
WEIGHT:
13 Stone, 6 Lbs (188 Lbs)
OCCUPATION:
SWORDSMAN, Knight
of the Justiciars Order
WEAPON of
CHOICE:
Artefact: Ancient Holy Sword
Named 'DEUS IRAE'
MOUNT:
DESTRIER
(Heavy Warhorse)
STATUS:
ALIVE
Being a paladin is more than just being a great fighter; It is about being a humble servant of the most high God, A-nak. The devout Flavius always starts and ends his day in prayer, kneeling before the altar of A-nak. Here, the penitent hero prays at the altar dedicated to Sanctus Justicius, in a side chapel of the Grand Cathedral of Loftewicke..
GO TO THE 'DRAGONS AND MONSTERS' PAGE
GO TO THE 'HEROES AND VILLAINS' PAGE
RETURN TO THE 'FLAVIUS' PAGE
Original Draft of FLAVIUS, PENITENT: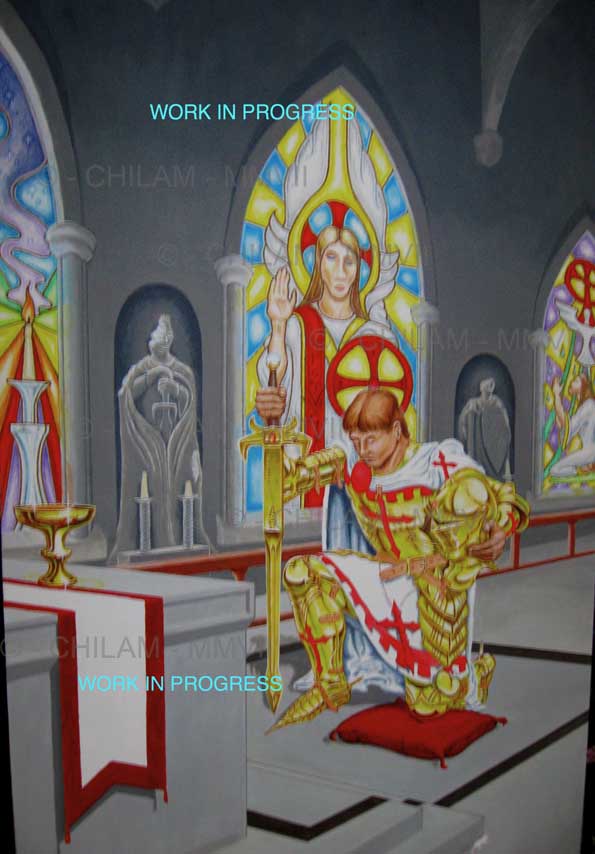 DETAILS TO NOTE:
XXXXXXX