Portrait of FLAVIUS, HEROIC: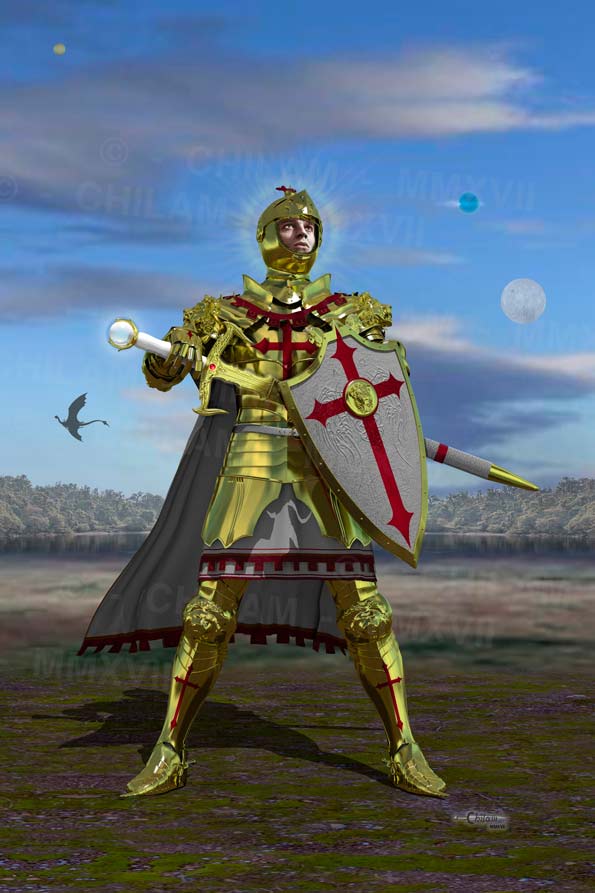 •
THE ILLUSTRATED WORLD OF




Digital (Blender™ and Photoshop™) - - - 2017


PRINTS: 16" x 24"; Framed in black;
This is a digital photoprint.
Only TWENTY-FIVE prints of this work are available. Run = 25
$180
RACE:
HUMAN
GENDER:
MALE
HEIGHT:
18 Hands ( 6' 0" )
WEIGHT:
13 Stone, 6 Lbs ( 188 Lbs )
OCCUPATION:
SWORDSMAN, Knight
of the Justiciars Order
WEAPON of
CHOICE:
Artefact: Ancient Holy Sword
Named 'DEUS IRAE'
MOUNT:
DESTRIER
(Heavy Warhorse)
STATUS:
ALIVE
Inspired by the Holy Sword Deus Irae, Flavius sought out a new armour that could withstand the dragon's acid breath. Gold, it was argued, was good against acid but far too soft and heavy to be viable armour. Flavius needed a miracle to beat the dragon, so he sought one out. It would come in the form of an analog: The gold armour, divinely hardened & lightened, was a physical counterpart to 'spiritual armour', sacred protection, divine providence.

Note the light reflected in his armour and three of the four moons high in the sky.
GO TO THE 'DRAGONS AND MONSTERS' PAGE
GO TO THE 'HEROES AND VILLAINS' PAGE
RETURN TO THE 'FLAVIUS' PAGE
Detail of FLAVIUS, HEROIC: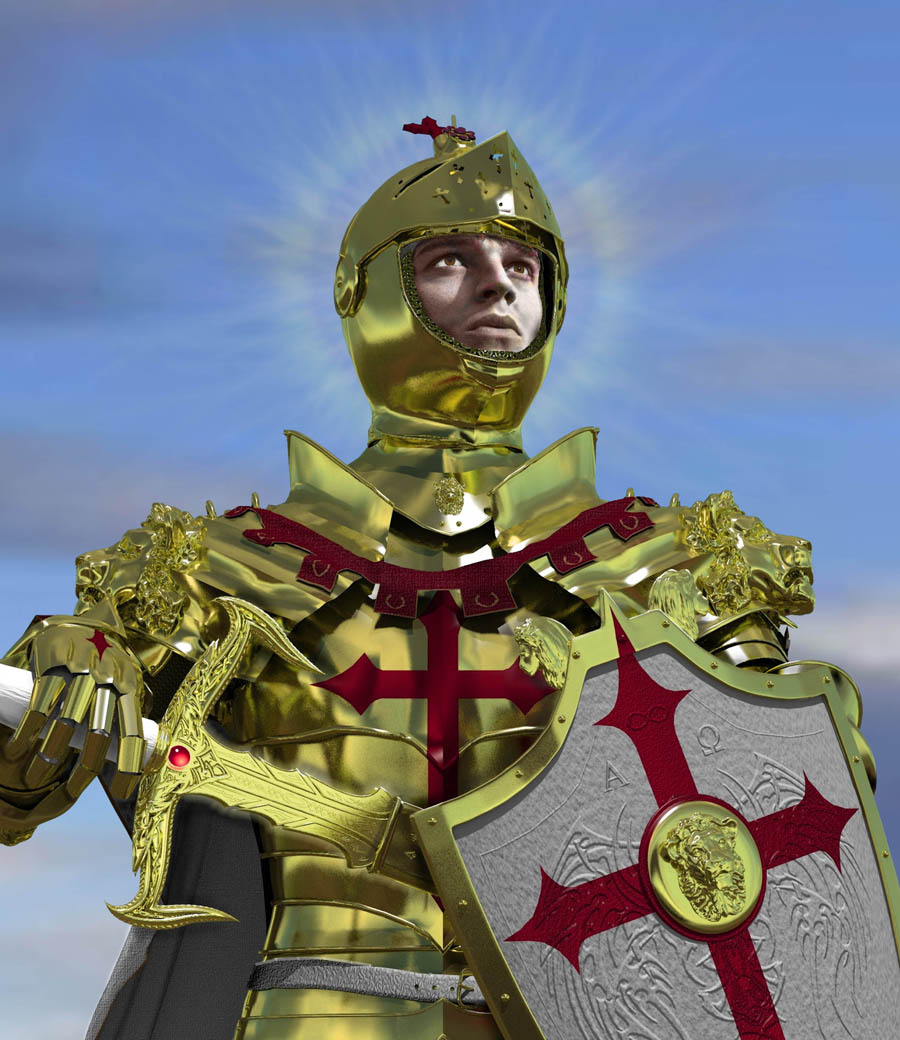 DETAILS TO NOTE:
His face, Winged Lion Motif and Texture on the Shield, Sword Quillions, Sword Belt, The Lion device on the Pauldrons (Shoulder pieces of the armour).